Dent Repair in Main Oil Line (MOL)
PetroMasila – Masila Petroleum Exploration & Production Company, Masila Block-14, Yemen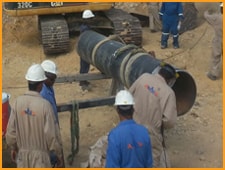 Dent repair in Main Oil Line (MOL).
Location: 100 Km from the CPF in the MOL between the CPF and Terminal .
Almasila Est. implemented the project of repair main export line from Adhabba to the terminal (Asheher district) since the pipe stretches along 150 km starts from Petromasila CPF Bock 14 to the terminal (Adhabba); the export port of the oil. The diameter of the pipe is 26" and it is considered the sole and main the pipeline for all the oil companies works in Hadharmout like Nexen, Total E & P Yemen, DNO and Petromasila and the quantity of the oil exported through this pipe is about 500,000 barrel per day. In 2016 this pipe (main oil line MOL) was dented so, Petromasila Company called our establishment to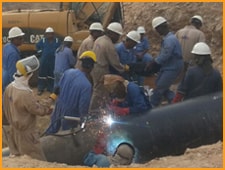 repair this dent due to the very high importance of this pipe because all oil flows through it, and Almasila Est. is capable to perform this critical job in perfect and professional way because it has all the technical manpower and required manpower for implementing this job in addition to its wide experience in this field. We used specialized and competent technical manpower to perform this job as the following:

1. Manpower : there are several crews participated in implementing this job like civil crew with labors , and 3 mechanical crews that include welders,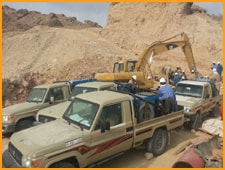 fabricators and others and this crew consists of 28 person, and this crew leaded by the constructions manager and mechanical supervisor who are TCN and the other are very experienced local technicians.
2. Equipment's: Almasila est. used so many equipment's to implement this job like welding trucks, side boom, loader , forklift 966, crane, picker truck, water trucks, and flat truck and all these equipment's had been operated by competent and qualified operators.

Almasila Est. implemented this job in a professional and safe way and our client Petromasila appreciated us due to the job have been done safely with a manner time met the planned schedule with cost saving.